UK Magazine of the OGAE Eurovision Song Contest Fan Club,
(Journal De L'Organisation Générale Des Amateurs Eurovision)
---
1997 Convention - Southampton
---
As new member Anthony puts it ... ".. the convention reinforced my strong feelings towards the ESC. Admittedly I did have pre-conceptions about the members of OGAE (UK). To my surprise and delight they were friendly, fun and young. A good cross section of interests united by the aim of discussing and celebrating the Eurovision Song Contest. I would like to thank the Editor for his great organisation of the convention in Southampton and the wonderful hospitality of the members who were there. I look forward to meeting you in 1998!" extracts taken from Vision 31 © OGAE (UK).
His comments were felt by everyone who attended. The convention was dubbed 'The Friendly Convention'!. Highlights of the convention included; Niamh Kavanagh in conversation and cabaret, 1954 ESC, EuroDisco, Rock Bottom Competition 1997, recap of the 1997 contest with press conferences and strange scenes on a sofa (ala Paul Oscar). Click on the links for some of the picture highlights ...

Press Conference with Meridian TV

I'm Standing By Niamh Kavanagh!!!

The Happy Couple

Party Time!

That Bucks Fizz Moment!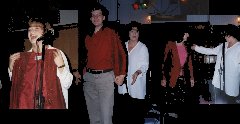 Watch It, Thats Worth £2,500 You Know!

Paul Oscar?
---
For details of the 1998 Convention click on this link;
---
Back To

Page.
Articles and General Enquiries ....

Vision News Desk
© OGAE (UK) /

Pilgrims Web Services 1999