UK Magazine of the OGAE Eurovision Song Contest Fan Club,
(Journal De L'Organisation Générale Des Amateurs Eurovision)
---
"VISION RECORD REVIEWS - Issue 33"
---
Welcome to the Record Reviews Page of the OGAE UK Web Site. The following reviews are ALL copyrighted by OGAE UK/Vision Magazine and appeared in issue 33. If you want to find out what's currently being released you'll find ALL the details in issue 34 out now!. More reviews in January.
---
Linda Martin - You Needed Me
Polygram TV 557 431-2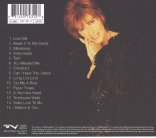 This new album of 15 songs was launched with a TV-advertising campaign in Ireland in time for the Christmas market. When it came to picking the songs for this project, Linda put her faith in Irish pop impresario Louis Walsh. Louis, the man who guided Boyzone to world success, has picked some gems of songs for his long-standing friend. The album opens with "Love Me", a song in the great tradition of sentimental Irish ballads, but so sensitively sung that it does not become mawkish. The songs show the tremendous range of Linda's voice, from the up-tempo "Mississippi" and "Long Live Love" through the moving "Cry Me A River" or "A Woman's Heart" to the jazzy "Make Love To Me". The title track is an excellent remake of the Ann Murray classic. Irish Eurosong followers might spot the talented Dave McNamara on backing vocals. The sleeve notes contain a first for Eurovision fans: In her list of credits, Linda thanks "all Eurovision fans, everywhere". Her fans have waited a long time for this album and they will not be disappointed with this fine collection from one of Ireland's most popular performers. The initial release is limited to Ireland, but EuroSong News readers can order the CD at the special price of IEP 15, including postage (Irish Cash or International Money Order only) from: Carol & Associates, 57 Meadowbank, Bushy Park Road, Dublin 6, Ireland.
---
DAN AR BRAZ et L'HERITAGE des CELTES – "FINISTERRES"
(COLUMBIA/SAINT GEORGE SAN 4891672)
This is DAN AR BRAZ's first CD, of new material, since their unbelievably low showing at the 1996 ESC. "Finisterres" contains a longer version of "Diwanit Bugale", which could be a new recording but sounds like the original to me, lasting 4.18 minutes and giving the song an added depth that is lost in the confines of the three minute rule. Aswell as "Diwanit Bugale" Karen Matheson features on four other tracks on the album but not, suprisingly, on DAN AR BRAZ's version of the title track of her solo album "The Dreaming Sea". Like their Eurovision entry the album is a fusion of different cultures which share Celtic roots, therefore you will find musical influences from Ireland, Scotland, Wales, the South West of Britain and Brittany. This unique blend produces and album that is both uplifting and reflective. Amust for fans of Clannad, the Corrs, Capercaillie and anyone who appreciates quality music.
---

GUILDO HORN & die ORTHOPADISCHEN STRUMPE – "DANKE!"
(EMI/SPIN 724349468528)
Well it seems that I owe GUILDO an apology. Despite my concerns about the effect of "Guildo Hat Euch Lieb!" in the ESC this album has made me realise that I had missed the point. GUILDO actually provides a great service to the world: he puts the FUN back into music. One of the reasons he enjoys such popularity is that he excels in parodying hits from the past which gives the public what it wants, familiarity and entertainment, and this album captures that feeling. "Danke!" was originally released prior to his ESC entry, but this has now been added on, and right from the, original, first track you are transported into GUILDO's world. It's a warm friendly place that makes you feel welcome and you can't help singing along to many of the songs. Perhaps the most interesting track is his amazing version of the old Lobo hit "I'd Love You To Want Me", retitled here as "Baby, Du Bist Nicht Alleine" which has been transformed into an anthemic rock song similar in feel to "Purple Rain" (I kid you not!). Other standout tracks include a storming version of "Rebel Yell" and the wonderful title track. However to appreciate the King of Kitsch at his best check out "Guildo's Party-Hitmix" which is a live medley which gives you a glimpse of the master at work and includes a hysterical send up of "Dschinghis Khan" (not for the easily offended!). Who says the Germans don't have a sense of humour!
---

VILI RESNIK – "RAD BI BIL S TEBOJ" (PANIKA SAZAS 4232)
This album was released late last year, and therefore doesn't include the excellent "Naj Bogovi Slisijo", however VILI provides us with an accomplished album which contains so many different styles of music that it defies categorisation. The opening song "Rad Bi Bil S Teboj" wouldn't sound out of place on a Queen album whilst on "En Korak Naprej" there's a distinctly Italian influence, but whatever the musical style VILI's vocals sound faultless. The biggest surprise is probably track 3, "Ne Bodi Zalostna", on which he tackles country music. The result is not dissimilar to The Mavericks and proves the versatility of VILI RESNIK. Also included on this album is his 1997 pre-selection entry "Tvoja Pesem" which is similar in feel to this years ESC entry. It's difficult to pick a favourite track but I think the emotive "Tiste Stare Dni" would have to be the one. If this CD had included "Naj Bogovi Slisijo" it probably would've overshadowed the rest of this outstanding album (because of it's familiarity).But , hopefully, that means there'll be a new album to follow and if it's as diverse and as satisfying as "Rad Bi Bil S Teboj" then I, for one, will be pleased to confirm that Eurovision has produced another outstanding talent.
---
ENI – "PROBUDI ME (WAKE ME UP)" (RFEJ/HRT CDR 5099)
It's taken me a year to get the 1997 Croatian entry, which is contained, on this 'mini' album. I say 'mini' because the CD lasts less than 28 minutes but you do get another 22 minutes of material in the form of a 'Quick Time™ Movie'. Amongst the 8 audio tracks you get the Croatian and English versions of "Probudi Me" whilst the remaining songs sound like substandard Spice Girls or Bananarama tracks. The style is quite varied and with a better choice of material these girls could find themselves enjoying success outside of their native Croatia. Worth having for the multi-media section, which includes their Dora performance and the promotional video of "Probudi Me", and two versions of the ESC entry.
---
SANDIE SHAW – "COOL ABOUT YOU (THE BBC SESSIONS 1984-1988)"
(RPM 181)
I know several of you think that SANDIE pays me to write all these good reviews about her but I just happen to think that her Eighties material is sadly underrated and neglected. So if just one of you reading one of my reviews goes out and buys one of her albums because I brought it to your attention then I will be satisfied. So here's the latest in my 'SANDIE deserves your attention' reviews. This CD brings you 73 minutes of, mainly previously unreleased, BBC recordings from her 'Smith's Period'. All the tracks I've previously urged you to check out are here so why would you want them again? Firstly there's a rawness to them that isn't evident on the standard versions, secondly five of the tracks have not previously appeared on any SANDIE SHAW album, thirdly two of those tracks have never appeared on CD before, fourthly there's a interview included which lasts nearly eight minutes and finally it gives you the opportunity to overhear the development of SANDIE's Eighties sound. The first two tracks on this CD are taken from someone's home recording, as the original had been wiped by the BBC, so the quality is inferior to the rest of the CD but their historical value (the tracks feature The Smiths) makes the songs essential listening. Well done to everyone at RPM for putting this overdue compilation together and thanks to SANDIE for providing the photos and information that makes the sleevenotes such fascinating reading. Favourite tracks include the new version of "Girl Don't Come", "Frederick", "Are You Ready To Be Heartbroken" and, of course, "Nothing Less Than Brilliant".
---
CLANNAD – "LANDMARKS" (BMG 74321560072)
In case you're wondering how CLANNAD qualify for a review I recently discovered that the group were amongst the entrants in the 1973 Irish pre-selection. So this brings us to their 10th album for BMG (excluding compilations). "Landmarks" sees CLANNAD continue where "Lore" left off with a sound that remains contemporary without betraying their roots. An album of effortless beauty that, like "Lore", is a combination of Gaelic and English material. If you've only recently discovered Irish music via the Corrs then check this out. Not a cover version in sight!
---
Articles and General Enquiries ....

Vision News Desk
© OGAE (UK) /

Pilgrims Web Services 1999