UK Magazine of the OGAE Eurovision Song Contest Fan Club,
(Journal De L'Organisation Générale Des Amateurs Eurovision)
---
"VISION RECORD REVIEWS - Issue 33 Continued"
---
Welcome to the Record Reviews Page of the OGAE UK Web Site. The following reviews are ALL copyrighted by OGAE UK/Vision Magazine and appeared in issue 33. If you want to find out what's currently being released you'll find ALL the details in issue 34 out now!. More reviews in January.
---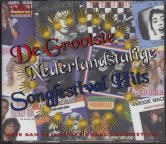 VARIOUS ARTRISTS – "DE GROOTSTE NEDERLANDSTALIGE SONGFESTIVAL HITS" (ABCD 30112-2)
This is an excellent compilation similar to those released in Sweden and Norway in recent years where the record company has made every effort to make the album as complete as possible. In fact this double CD contains 45 tracks and only fails to include the two Dutch entries from 1956 and "Wat Een Dag" from 1961, none of which were ever recorded by the original performers. To make the most of the time available on this double CD a few preselection songs have been added. So here you have almost every Dutch Eurovision entry up-to 1997. Like the Swedish and Norwegian compilations this comprehensive collection will become the standard to which all other similar releases will be judged. Is anyone in the UK Record Industry paying attention out-there? Full marks to ABCD records for an essential purchase.
---
CELINE DION – "LES PREMIERES ANNEES (THE VERY BEST OF THE EARLY YEARS)"
(COLUMBIA 4878232)
Now here's a confusing release for all us CELINE fans. Firstly this is a different release to the other Sony CD called "Les Premieres Annees" and secondly, despite it's recent photo of CELINE on the cover, it is actually another collection of old material and was previously issued as "C'est Pour Vivre" (The French Love Album) on Nectar and BR Music! For a full review see "Vision" issue 30. Needless to say this is an import so you'll find it cheaper to seek out the UK Nectar release. The CD features 14 tracks thankfully none of which are her 1988 ESC winner, six of which can only be found on CD on this compilation (whichever version you buy). Essential if you don't already have it, but check first!
---

MARC ROBERTS – "MARC ROBERTS" (GRAPEVINE GRACD 235)
Once again Eurovision has provided the launch pad for an International star. Well not quite, but if there was any justice MARC ROBERTS would be. This album is such a polished album that I find it impossible to believe it's a debut release. Amongst the tracks you'll find the Irish preselection interval song "To Be Loved By You", the single "Babe" (which sounds better on the album than it did as a single) and the song which should've won the 1997 ESC "Mysterious Woman". There's an excellent version of CLIFF's "Some People" but what makes this album all the more special is the fact that the majority of tracks are written by MARC himself. If you're a fan of JOHNNY LOGAN, CLIFF RICHARD, Hall & Oates or John Schneider then this is for you but if you like songs from the heart then just buy it. My favourite tracks include the Gospel tinged "To Be Loved By You" and the nerve tingling "The Word Goodbye". A STUNNING DEBUT. If you would like a copy of this CD you can obtain it by mail order from Grapevine 33-35 Wembley Hill Road, Wembley, Middlesex, HA 9 8RT or phone 0181 733 1300.
---
OLIVIA NEWTON-JOHN – "BACK WITH A HEART" (MCA NASHVILLE UMD 80487)
Three years after "Gaia (One Woman's Journey)" OLIVIA returns with an album that finds her career coming full circle. It's 27 years since her debut album became the toast of Country Music and for many years she was happy to stay in that musical field. "Long Live Love" saw her cautiously move into the mainstream Pop arena and although it was a shaky start by the late Seventies she became a household name. However it was to be "Grease" that propelled her into international stardom but the clean cut image started to feel restrictive and OLIVIA recorded "Physical" to show another side of her. In the Eighties she became a business woman whilst continuing her film and musical career. She also became a mother. The nineties were to deal OLIVIA several cruel blows, although re-issues and 'hits collections' kept her in the public eye, and much of what she went through was documented on "Gaia". So after the history lesson what does "Back With A Heart" tell us about OLIVIA NEWTON-JOHN? Firstly she has written or co-written seven of the albums eleven tracks, which proves her new found confidence in her abilities, and secondly I defy you not to love this album. Like CLIFF RICHARD her voice is probably the strongest it's ever been and this is an album of pure quality. If you've recently discovered new country acts like Shania Twain or Leann Rimes then listen to this, if you love "Grease" listen to this, in fact whatever you usually listen to, listen to this. My favourite tracks are probably the title track, "Love Is A Gift and the new version of "I Honestly Love You" (which features Babyface and could possibly be the single).
---
AGNETHA FALTSKOG – "THE BEST OF 1968-1979" (COLUMBIA 4652982)
This is the album I mentioned in the last edition of "Vision". Firstly although all the titles are written in English on the back of the CD all the songs are in fact sung in "Swedish", secondly judging by the cover this is in fact an original Swedish album with an English sticker on the front. If, like me, you brought the double CD "My Love My Life" then you'll already have 13 of the 16 tracks gathered here. One of the things that many ABBA fans fail to recognise is the fact that AGNETHA is a very talented songwriter in her own right and to illustrate this you'll find she has a writing credit on over half of the songs found here. This collection gives you an adequate overview of AGNETHA's early career and as part of Sony's mid-price catalogue is worth looking out for.
---
AGNETHA FALSKOG – "THAT'S ME" (POLYDOR 5399282)
With almost unbelievable timing Polydor have also issued a retrospective of AGNETHA's career which covers her Eighties output. The collection includes one previously unreleased, English, track "Queen Of Hearts", which is due for release as a single. So what's the point in buying this CD? Well as an album it flows better than several of AGNETHA's solo releases to date and it does include several duets which didn't appear on solo albums. Whilst "My Love My Life" was aimed at the collector the casual fan would be better off buying this CD along with the Sony collection "1968 – 1979" and until she produces something new it's probably all the AGNETHA you'll ever need.
---

VARIOUS ARTISTS – "THE PIANO MAN" (SOLID ROCD 782)
This single reached number 2 in Ireland and was released to raise money for RTE's 'People In Need – Telethon 1998'. Like "Perfect Day" it's a charity ensemble performing the Billy Joel song "Piano Man" but apart form the fact it's a brilliant single this recording features a host of Eurovision stars. Here goes: LINDA MARTIN, EIMEAR QUINN, PAUL HARRINGTON, LIAM REILLY, MARC ROBERTS and, Irish preselection entrants, the CARTER TWINS. This single deserves a more international release and is recommended to music lovers everywhere.
---
CELINE DION – "MY HEART WILL GO ON (THE DANCE MIXES)" (COLUMBIA 6653155)
As you may have gathered I'm not particularly keen on the original version of this as I think CELINE's voice sounds too strained, however both her voice and the song come to life with these dance mixes. Now I'm not usually a fan of dance versions of ballads but in this case the adding of an uptempo beat actually works. None of the mixes are too long (unlike the British remixes currently doing the rounds on 12" promos) and fail to destroy the feel of the song, as many remixes do. These versions have charted in several European countries aswell as Australia but whether or not they get a commercial release in the UK waits to be seen. Worth investigating.
---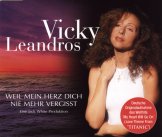 VICKY LEANDROS – "WEIL MEIN HERZ DICH NIE MEHR VERGISST"
(WHITE RECORDS/BMG 74321573622)
This is in fact the German language version of "My Heart Will Go On" (no dance mixes in sight!) and VICKY LEANDROS has a credit for composing some of the new lyrics. VICKY's version is less strained than CELINE's original (I hope CELINE will record a French version in the near future) and is well worth looking out for. The CD single also features tracks from VICKY's recent albums which confirm that she has lost none of vocal power.
---
Articles and General Enquiries ....

Vision News Desk
© OGAE (UK) /

Pilgrims Web Services 1999